Log Books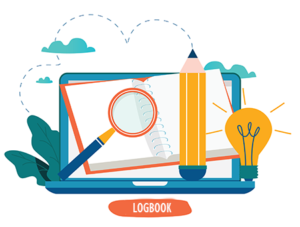 Together with your interview and your exhibit, your log book demonstrates how well you meet the criteria they are assessing. Log books are so important, that the judges cannot fully determine how many marks your project is worthy of without a log book. It is used to verify the authenticity of a project. The Judges are looking for evidence of planning, the raw data and the interpretation of data and scientific understanding of the entrant.
Years 7-11 and Years 12-13 have different exhibit requirements and need to be assessed differently because of this.
Years 7 – 11: Students in Years 7-11 log books are compulsory and are an entry requirement at the Central Northland Science and Technology Fair. Year 7-11 exhibits without a log book will not be judged. No log book, no marks, no exceptions.
Years 12 & 13: Students in Years 12-13 do not produce standard exhibits, but instead present Conference Posters. Log books are considered to be supporting materials for a Conference Poster. Supporting materials are optional for the exercise. While judges will mark a Conference Poster without supporting materials, questions which cannot be adequately answered or assertions and conclusions which cannot be validated will have a detrimental impact on the assessment. Accordingly, students in Years 12-13 will leave log books at home at their own risk.
---
Safety and Ethics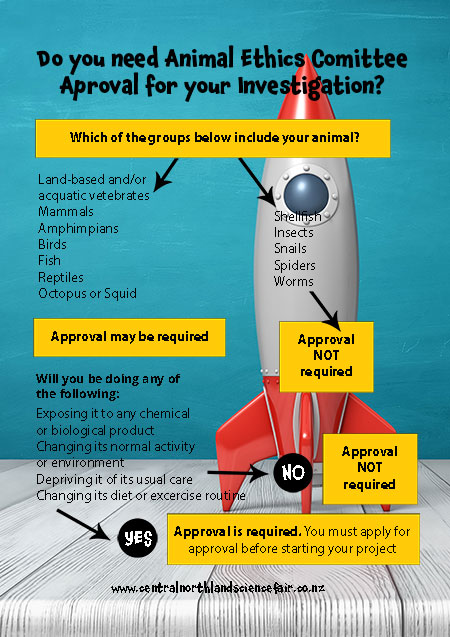 Ethical Approval required for the use of animals in research and teaching in schools and early childhood centres.
Some projects may have ethical considerations that need to be taken into account. Projects which require ethics approval will not be accepted to Central Northland Science and Technology Fair unless the approval is obtained.
Any science investigations in which a live animal [mammal, bird, reptile, amphibian, fish (bony or cartilagineous), octopus, squid, crab (including half crab), lobster, crayfish (including freshwater crayfish), mammalian, avian or reptilian foetus in the last half of gestation or development is used requires ethical approval.
Apply for Ethics Approval
For forms and more information go to: nzase.org.nz/about/animal-ethics This website gives educators legal, ethical and practical information on the use of small animals for research.
Approval is required from the New Zealand Association of Science Educators where an animal is involved in a project.
Download ethics approval flowchart…
For the purpose of the Animal Welfare Act an "animal" means any living animal and it may be a vertebrate or an invertebrate as specified in the Act.
Any investigation involving animals (vertebrate or invertebrate) that may be NZ endangered species requires Animal Ethics approval.
Guidelines for the use of Humans in experiments and research
These ethical practice guidelines are for students and teachers engaged in school research and other projects that involve people (other students, family, members of the community). These guidelines are not mandatory. They were developed for the Ministry of Education.